GoPatch Works with USPS
At GoPatch, we are all about making sure you are happy with our patches and the service we provide. As a small business and a company interested in keeping your shipping costs affordable, we choose to ship our products through the United States Postal Service (USPS). We've got your back. Our shipping packages come with insurance to protect against any lost or unclaimed
packages, just in case. While infrequent, we know issues can arise with USPS package delivery so we went ahead and outlined guidelines for handling such instances.
Packages marked "Delivered" however – NOT received by customer:
GoPatch cannot offer refunds for packages marked as delivered by USPS. If the order is marked as delivered but was not received by our customer, the customer needs to contact their local post office regarding their package.
If USPS cannot locate the missing package, the customer can file a refund request with their local post office. Detailed instructions on requesting a refund can be found on the official USPS website here, and eligibility requirements can be seen in the image below: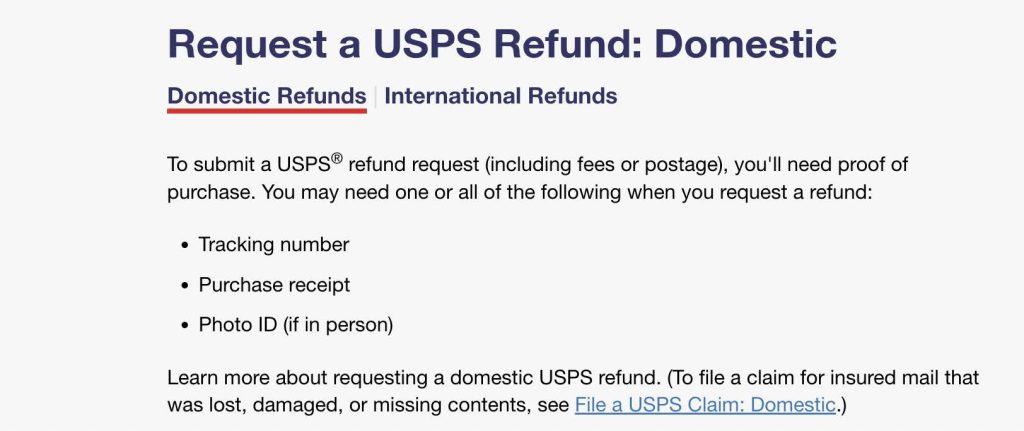 Speaking of customer satisfaction, because we want you to be a lifelong fan of GoPatch, here's the scoop. If you received a package that was marked as delivered but never arrived to you, no worries. We've got your back with a one-time replacement option. You cover the shipping cost, and GoPatch takes care of the rest.
If this option interests you, please contact our team at salesorders@thegopatch.com for a one-time use coupon. Please remember to create your new order with that coupon code, this is how GoPatch ensures you receive your replacement.
Packages marked as "Return to Sender"
If USPS is unable to successfully deliver the package, they will attempt to deliver the package again on the following business day. If the package remains undeliverable, they will hold the package at your local post office for a specific period of time. Following the specified range of time, they will return the package to sender. To learn more about how long USPS will hold your mail, the following website specifies the timeframes for each package type: https://faq.usps.com/s/article/What-are-the-Second-and-Final-Notice-and-Return-Dates-for-Redelivery.
Please see the image below for additional information on how USPS handles undeliverable packages and the next steps you can do to get the package at your door and in your hands.

GoPatch cannot offer refunds for packages that have been marked as 'return to sender' unless the package has been received by us.
It is also important to note that USPS does not offer refunds for packages labeled as 'return to sender' because, according to USPS policy, USPS did their job shipping the package to its destination.
Here's to embracing a life without limitations!
Returns, Refunds and Exchange Policies
At GoPatch, we value our customers and aim to provide the best customer service possible. We understand that situations may arise where you may need to seek a refund, return or exchange for a purchase made with GoPatch. This policy has been designed to outline the guidelines and procedures for handling such instances, ensuring a seamless and satisfactory experience for our valued customers.
Eligibility Criteria:
– To be eligible for a refund, return or exchange, the item(s) must have been purchased from the GoPatch website. Items bought from third-party sellers or other retailers need to be returned or exchanged at that retailer.
– GoPatch will provide a refund for the product cost only in instances where the order has already been shipped. However, if an order was canceled before it was fulfilled and shipped, you are eligible for a full refund, which includes both the product and shipping costs.
– GoPatch reserves the right to refuse a refund, return, or exchange request if the eligibility criteria are not met or if the request is made outside the specific timeframe.
Return Policy
GoPatch return policy is in effect for 60 days after the date of purchase. If 60 days have gone by since your purchase, unfortunately we can't offer you a refund or exchange.
Refund Policy – Money Back Guarantee
Once the return initiated by the customer is received by GoPatch, we will send an email notifying you we received the returned item. GoPatch will also notify you that the funds are being returned to your original form of payment.
If you did not receive your refund in 10 business days, please contact us at: salesorders@thegopatch.com.
Exchanges:
There is a 60 day Manufacturer guarantee. We only replace items if they are defective or damaged. If you need to exchange it for the same item, send us an email at salesorders@thegopatch.com and send your item to:
GoPatch®
808 Chestnut St. #1018
Chattanooga, TN 37402
International Orders:
If USPS cannot deliver your package and it has been marked "returned to sender", GoPatch will issue a refund once the package has been received. If a replacement package is desired in place of a refund, please contact salesorders@thegopatch.com and our team will instruct you on the next steps to try to overcome the USPS delivery issue.
Disclaimers:
For both international and domestic returns, you will be responsible for paying the shipping costs for returning your item.
If you are shipping an item(s) over $75, you should consider using a trackable shipping service or purchasing shipping insurance. We can't guarantee we will receive your returned item. If the item is never received, GoPatch cannot reimburse for the return.
All products that need to be refunded, returned or exchanged requests should be addressed to:
GoPatch®
808 Chestnut St. #1018
Chattanooga, TN 37402
Thank you. If you have any questions, please contact us at salesorders@thegopatch.com.