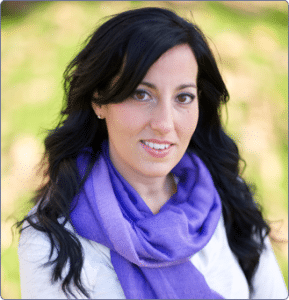 About Nicole Burdock, Founder, GoPatch®
Nicole has spent her career in the healing arts.
She holds a B.S. in Biobehavioral Health from Penn State and an M.S. in Asian Medicine from Emperor's College of Traditional Oriental Medicine. She has studied at The National College of Naturopathic Medicine and completed advanced studies in Ayurvedic Medicine.
Nicole practiced natural medicine in wellness clinics across the United States and in Brazil, Italy and Slovenia before opening her own integrative health and wellness clinic, The Center of Joy, in Oakland, California in 2012.
While running her private practice, she gained deeper insight into the natural compounds that calm the body and alleviate pain.
How GoPatch
®

Came to Be

Some people are lucky enough to find their life's purpose relatively early. Nicole is one of those people, though her purpose emerged from one of life's biggest curve balls: The loss of a parent.

Nicole was in med school when her mom was diagnosed with Stage 4 breast cancer. For as long as Nicole can remember her mom rarely, if ever, complained despite struggling with multiple autoimmune disorders. The only time Nicole can remember her mom talking about not feeling well was when she described her motion sickness. The nausea gripped her.

When the chemotherapy started, it created intolerable nausea for Nicole's mom. The pills to ease it cost $900 per day. While Nicole was thankful for the relief the pills provided her mom during her final months, she was outraged by the cost, knowing the expense would be beyond most people's means.

Eventually, Nicole returned to her studies, but with a newfound passion to find another way to heal people. In her studies she learned both ancient and modern ways to soothe and treat the body through the body's innate healing mechanisms and all that nature provides – through plants, animals, and minerals – to help us heal.

After school, Nicole joined a wellness clinic. Working as a health practitioner brought Nicole great joy. She believed she was doing exactly what she was meant to do. That was until she boarded a boat.

Like her mom, she was prone to motion sickness so she wore bracelets to ward it off, but the waters were choppy and others were getting sick. Nicole noticed a family whose children were terribly sick. Their mother explained the kids had struggled on boats, in cars, on school buses, so much so she wouldn't dress them in their good clothes until they arrived at their destination because she feared them getting sick enroute. Nicole watched as the kids instinctively put their hands over their bellies, trying to calm their nausea. She wondered if the children innately knew what she had learned in her studies – that the navel is one of the primary healing acupuncture points in our body.

For Nicole, the children's illness triggered memories of her mom. She knew she could help these kids and others suffering from conditions that limit their ability to enjoy life. Later, in her kitchen with a roll of duct tape and 10 years of schooling in medicine and complementary health practices, she created a prototype for the first-ever homeopathic patch for motion sickness.

Less than a decade later, after using the patches on herself and giving them to her friends who shared her motion sickness difficulties, she received U.S. Patents for her motion sickness and pain relief formulations.

Since then, GoPatch® has helped tens of thousands of people. GoPatch® Motion Sickness +Dizziness, GoPatch® Anxious, GoPatch® Menstrual Cramps, GoPatch® Tummy, GoPatch® Hangover and GoPatch® Pet are available in retailers across the country and online at GoPatch.com.

To learn more about how GoPatch® has helped people live life without limitations, read these real-life testimonials .
A Portion of Our Profits are Donated to The AIM Center
At GoPatch, we are proud to support the AIM Center, an incredible non-profit organization located in our hometown of Chattanooga, Tennessee. Established in 1989, the AIM Center provides crucial support, education, employment, housing, socialization, and wellness opportunities for adults living with mental illness.
Mental illness affects people from all walks of life, regardless of their age, race, gender, or how much money they have. Despite its prevalence, mental illness continues to face social stigma even though approximately one in five American adults experience a mental health issue. Mental illness may not be something you can see on the outside, but it can have a big impact on how people handle stress, relate to others, and make decisions.
We at GoPatch firmly believe in the importance of helping individuals discover living life without limitations much like our friends at the AIM Center who strive to help people living with mental illness rediscover their strengths and abilities. The AIM Center empowers its members to recognize their value and potential, enabling them to contribute to their communities in a meaningful way. So help us help them make a difference!
GoPatch supports the AIM Center by donating a portion of our profits to them each year. We aspire to employ people at the AIM Center as part of our fulfillment team in the future.
You can also donate to the AIM Center . Together, our donations help the AIM Center develop new and innovative programs that help members achieve recovery.