Anxious Patch Featured in International Online Magazine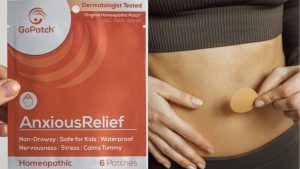 In a 2018 report, GNN introduced a California health practitioner who invented a natural, drug-free patch that can treat nausea in people and pets—and relieve cramps and vertigo.
Now, GoPatch is meeting a crucial need with its new product to alleviate anxiety.
GoPatch founder Nicole Burdock knew that anxiety was the most common mental health challenge that Americans faced—even before the pandemic.
"I can only imagine, after these past 2 years with so many individuals working remote, being isolated, and unable to connect with friends and loved ones, how devastating this has been to our mental health, said Burdock. "I can't even fathom."
Gina Raulston, an ex-police officer living in Tennessee, now works in the prison system.
"Anxiety has always been a battle. Out of nowhere it tears at the very fabric of my life. I exercise regularly, eat as healthy as I can, but I seem to always find myself with anxiety."
"I am also an officer's wife, a mother, and I have a demanding career. Some days I feel like I shouldn't feel the anxiety. I feel weak for admitting the anxiety is real," admits the Chattanooga woman.
"I've taken Wellbutrin for years and still had panic attacks often. This patch has changed my life. I place it over my belly button and within a couple of minutes the anxiety is gone. There are no side effects. No pills to take. No harsh chemicals. Just a patch."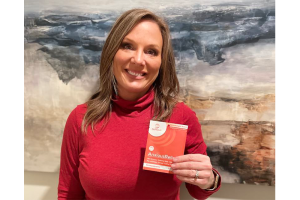 Charlotte, a 57-year-old in Santa Barbara, California, says she particularly recommends the patch for people who don't like going to the dentist. "It goes SO much less stressfully."
Her neighbor's elementary school daughter also had success with the patch. After trying the product, which is reported to be safe for children over 4-years-old, Mani was able to return to school after many weeks at home. "This anxiety patch is incredible," she told Burdock. Mani's mother wasn't sure what to expect but says, "She was so calm and happy, not at all like before."
The homeopathic patches are formulated with micro-doses of diluted essences from plants, minerals, and natural ingredients—and are made in the USA.
Whatever the ingredients, it apparently works. And her company, GoPatch, offers a money-back guarantee if it doesn't work. But, the testimonials from customers speak loudly that there is something at work here.
Charlotte's mother Lynne told GNN, "I have been dealing with several very stressful life situations and have been rather flooded with tension and stress, which has also caused an increase in pain from an ongoing problem. I have tried more techniques, medications, Physical Therapies, chiropractors, and acupunctures than I could possibly count."
"I also am familiar with homeopathy but it has not been particularly helpful in the past either. Therefore, I was hopeful, but somewhat skeptical, expecting that the GoPatch would be just one more thing I had tried. But I applied a patch over my navel around noon and after an hour I had a marvelous afternoon and evening and could enjoy my three grandchildren in the Christmas pageant, in a way I had not been able to do for many years!"
"I now have very little pain and have been less tense and stressed than I have been for over a year," she said. "It really feels like a miracle and an answer to innumerable prayers."
Menstrual relief, too
Heather Gallagher has used GoPatch's menstrual patches. After her second pregnancy, her period began to be heavy, with debilitating cramps.
"One morning I had to get ready to get my eldest to school then head off to work, and I could not even stand up. I crawled to the bathroom in agonizing pain and remembered that I had GoPatch in my first aid box. I grabbed one, put it on and was ready to call in sick for work. About 15 minutes later, I realized how the patch worked, and it worked fast. I left the patch on for the rest of my cycle and noticed not only did I not have pain but the bleeding wasn't heavy."
A GoPatch distributor, Health First Pharmacy in Windsor, California, reported that a woman came into the store complaining that she'd tried everything for her granddaughter's cramps, so they showed her the GoPatch product. Later, the young girl was writhing in pain on the bathroom floor but after the patch was applied, she was able to get up and go to school.
Burdock, whose nausea patches have also helped innumerable people to stop getting seasick and carsick, is proud of her work as an alternative health practitioner who has become an entrepreneur so she can reach more people.
"GoPatch has touched the lives of people on every continent, bringing them relief through our patches; even Antarctica, by folks traveling by boat."
"That is making my heart's wish come true, which actually brings tears to my eyes."
Read our 2018 article to learn more about the founder—and feel free to check out their website's FAQs page.